If they grow up to be anything like their mom, young Gigi and Tiger have a bright future ahead of them. As a single working mom and Mexican immigrant who has lived in the South Bay for more than 18 years, Esmeralda Gallemore is living the American dream and hopes to inspire many other people to do the same—including her 10-year-old daughter and son!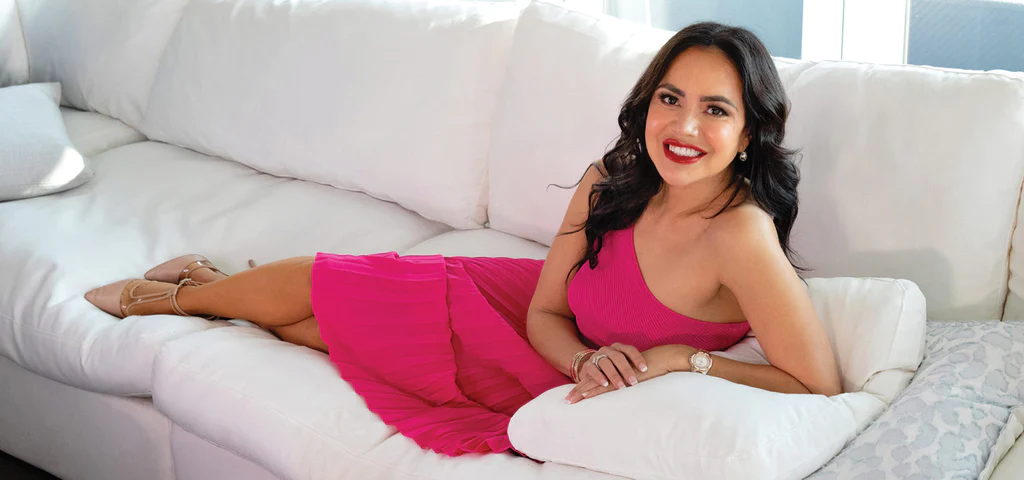 Esmeralda has contributed to the community over the years—initially through health care and now as a nutritional expert and wellness coach. In 2003 she founded EyesAndBody, a health and wellness entity.
"Our health is our wealth, and it is important that we do everything we can to keep ourselves in shape physically and mentally so we get the most out of each day," she says.
Esmeralda has worked in the medical field for 18 years, focusing on the area of retina health. She learned firsthand the disorders affecting the eye as well as treatment options. She was accepted at the Jules Stein Eye Institute—a UCLA ophthalmology program—and she also took an additional two years of conventional education. She became an Integrative Nutrition Health Coach (INHC) through the Institute for Integrative Nutrition (IIN) program, with expert visiting teachers such as Deepak Chopra and Dr. Oz.
"It is important that we do everything we can to keep ourselves in shape physically and mentally so we can get the most out of each day."
Since then, she has been invited to teach virtually around the world and continues her education with the institute with an emphasis on hormonal imbalances and eating disorders. She now focuses on researching holistic methods that go hand in hand with science.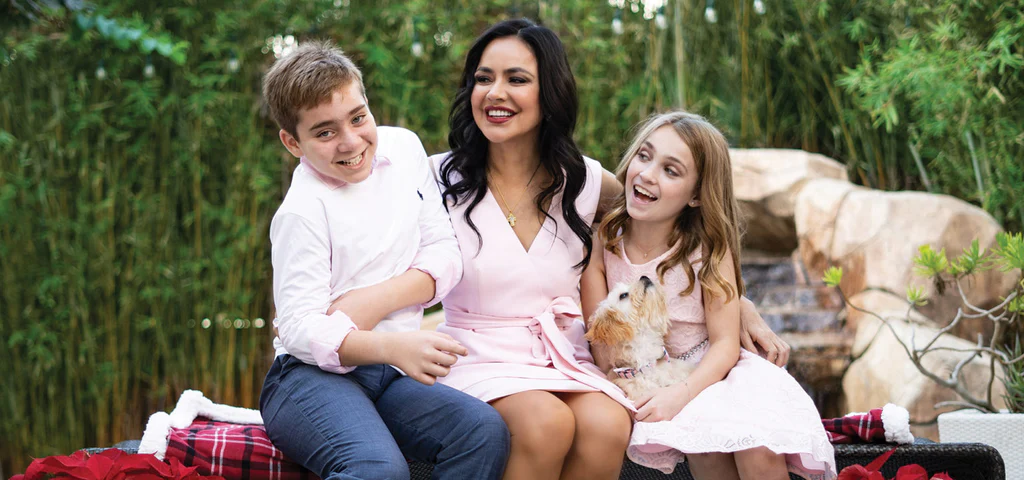 Above: Photographed by Moziko Wind
SUPPORT SYSTEM
---
"I feel there is a huge need not only for nutrition but for creating healthier habits that are easy to maintain and support a better lifestyle," Esmeralda says. EyesAndBody's supplements contain all-natural ingredients and are crafted for specific benefits. They are all-in-one formulas for all ages and spectrums that promote full-body health.
On her website, Esmeralda offers various exercises that clients can incorporate into their daily routines in order to feel great and enjoy doing it. She sells workout clothing, leisure wear for yoga, and nutritional and self-help books. She also offers individual counsels and a vast array of wellness and lifestyle information to improve the lives of supporters and give them the keys to a happy and healthy existence.
"I want readers to know that it is never too early or too late to begin your wellness journey," she says. "It starts with simple choices. EyesAndBody is here to help you achieve the best version of yourself and help you every step of the way!"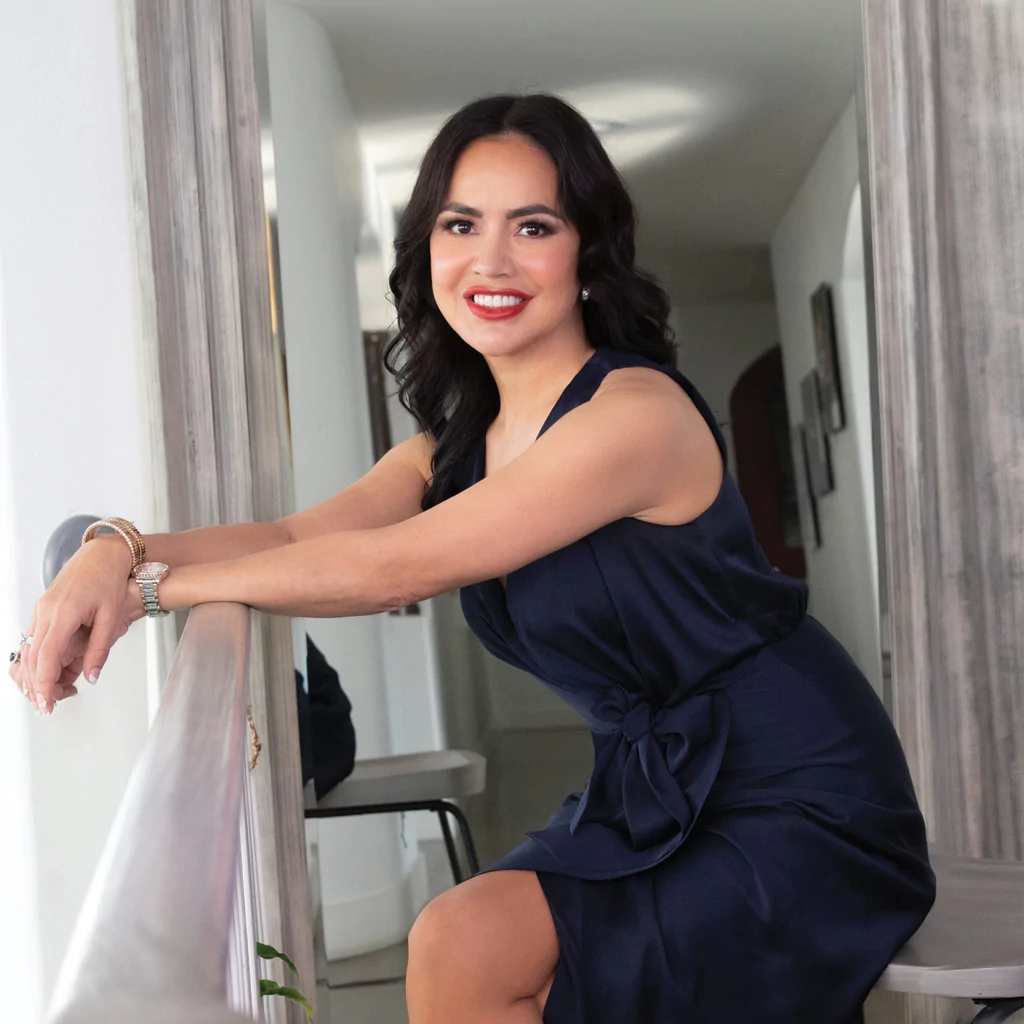 THE WRITTEN WORD
---
As part of her quest to share her knowledge with as many people as possible, Esmeralda has written four self-help books, with a fifth in development. "I knew the information I had acquired through my life would benefit many," she says. "Four years later, most of my books have been featured on radio, podcasts and TV. None of my books are intended to provide medical advice; however, they do provide helpful tips that are beneficial for everyone."
So You Think You Can Tech: Retina Patient Work-Up editions one and two are comprehensive manuals for eye-care professionals, drawing from Esmeralda's experience as a retinal angiographer. They teach performance techniques for retinal exams and workups for patients and include the latest techniques for performing retinal angiograms—helpful for doctors while making their diagnoses.
She wrote two of her books during the coronavirus pandemic. So You Think You Know Vitamins: The ABCs of Nutrition is a user-friendly guidebook that explores ways of eating that contribute to feeling energized and productive. This book breaks down the vitamins and nutrients from a variety of foods.
"I wrote this to help readers make healthy choices that would keep them safe and feeling their best throughout the trying times," she says.
Ever the devoted parent, Esmeralda involved her twins, Gigi and Tiger, in the writing of her next book, So You Think You Can Laugh: The Adventures of Braden, Gigi & Tiger. While homeschooling during the pandemic shutdown, she recognized the uncertain and difficult time kids were facing. Her children's anthology addresses that issue—but in a playful, fun way with protagonist Braden facing challenges that take him on wild and whimsical adventures.
Her fifth book, So You Think You Know How To Eat: Eating Disorders and How to Break the Cycle, will be published this year. It focuses on this important topic, which impacts millions of people and their families.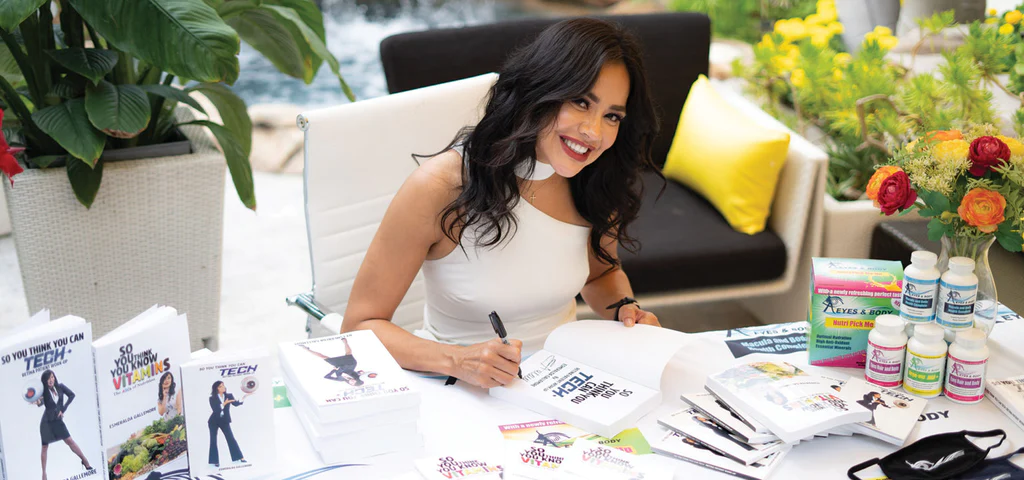 A FRESH START
---
In 2018 Esmeralda had a challenging series of life events. Where some may have responded with unhealthy choices, she drew on her Latina values, rolled up her sleeves and got back to work.
"As rattling as it was, I was reminded from my Hispanic heritage that we must always continue to keep our heads up and find ways to succeed and be ready for the opportunity," she says. "With every ending, there is a new beginning."
From this experience, Esmeralda realized that she wants to spread the message that it is possible to reach the impossible through hard work and dedication. She hopes to establish a group of like-minded clients—especially from the Hispanic and Latinx community—and help them succeed in business as well as health.
"We Latinas are making strides, and we are fighting to make our mark in a positive manner," she shares. "I encourage all aspiring entrepreneurs to find and benefit from the resources that this country has to offer."
Even though she's succeeding in so many areas, the learning hasn't stopped for Esmeralda. She continues educating herself on the latest wellness trends and topics so she can share that information with her clients. She also offers virtual teaching for health care workers around the world in the field of ophthalmology.
Self-improvement and success go hand-in-hand for Esmeralda, and she enjoys being around people with similar ideals. "The South Bay is an excellent place to live," she says. "It is full of entrepreneurs who are successful and driven. Surrounding yourself with like-minded people makes you better."
Esmeralda cherishes the quality time she spends with Gigi and Tiger. They enjoy riding bikes and walking their dog, Fluffy, on The Strand. They're friendly with their neighbors and appreciate living close to church and the kids' school. A former professional world champion dancer, she also enjoys salsa dancing and tango during her free time.